The
Glass
Hub
of
Southeast
Asia
opens
its
doors
today
in
Kuala
Lumpur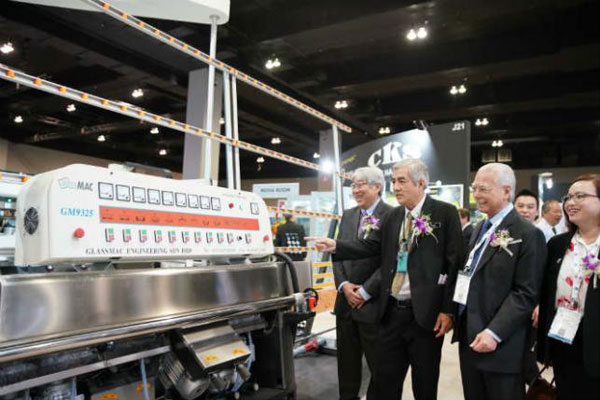 November 14, 2018 Kuala Lumpur The region's foremost glass showcase, the Glasstech Asia series, opens today in Kuala Lumpur marking its return to the capital with its 16th edition of the International Glass Products, Glass Manufacturing, Processing & Materials Exhibition. Glasstech Asia 2018 held concurrently with Fenestration Asia 2018 from 14 to 16 November 2018, was officially opened this morning by Guest-of-Honour, Y.Bhg. Dato' Yean Yoke Heng, Deputy Secretary General (Management), Ministry of Tourism, Arts and Culture Malaysia. It is being held at the new state-of-the-art Malaysian International Trade Exhibition Centre (MITEC). The international show is endorsed by MATRADE and also supported by the Ministry of Tourism, Arts and Culture Malaysia (MOTAC) and Malaysia Convention & Exhibition Bureau (MyCEB), an agency under MOTAC.
The unparalleled glass showcase, which have gained prominence as the 'Glass Hub of Southeast Asia', provides regional and international industry players a broader understanding and expansive knowledge in glass manufacturing, processing, products and materials sector. Apart from being the preferred sourcing platform for architectural glass and processing needs, the showcase serves industry players from across the globe who are looking into tapping the growing market of Malaysia and the rest of Southeast Asia. Over three days, the showcase will also host the gathering of international experts from the glass industry who will put forward the latest in glass technology and innovation, as well as to address the latest developments and challenges faced by the industry.
The glass industry in Malaysia is experiencing a steady growth especially with the industry reinvesting in itself with glass manufacturing facilities. Malaysia is also actively attracting numerous industry players to set-up their businesses and glass manufacturing plants in the country. According to a 2017 market report by Global Market Insights, the world's flat glass market size had surpassed USD 80 billion in 2016, and that the demand from construction applications is expected to exceed 120 million tonnes, surpassing USD 100 billion by 2024. A positive outlook in construction spending along with consumer demand for aesthetics and energy-efficient interiors are expected to encourage product demand. Technological advancements in construction projects have also led to new product developments in increasing sustainability, comfort, style and safety.
With rapid industrialisation, a booming construction industry and urbanisation in Malaysia, China and Thailand, and along with the adoption of smart and energy-efficient technologies by advanced construction practices, the demand for flat glass continues to be positive. In the Asia Pacific region alone, the demand for flat glass is rising as significant investments are being made in the modernisation of existing airports and terminals. Flat glass is also increasingly being used in the interior of buildings, replacing traditional materials such as stone and wood in the construction of floors, stairs, bathrooms and walkways.
The Latest Showcase for the Glass Industry
Glasstech Asia 2018 is organised by Conference & Exhibition Management Services Pte Ltd (CEMS) and Singapore Glass Association (SGA). The show is presented as an international exhibition for the architecture and building industries showcasing the latest technologies, products and services for the glass industry worldwide. Fenestration Asia 2018 is the third edition of the international windows, doors, skylights, curtain wall and facade technology exhibition.
The three-day exhibition which spans over a gross exhibition area of 7,000 square metres, is hosting 142 exhibitors from 13 countries. It is also expected to attract over 5,000 visitors, trade professionals, and conference delegates from Malaysia and the region.
A Focal Point for Learning
Glasstech Asia 2018 will double up as a learning focal point where it will host three conferences for delegates representing all areas of the architectural glass industry - the ASEAN Glass Associations Summit (AGAS), the ASEAN Architectural Glass Conference (AAGC) and The Green Building Seminar by the Malaysia Green Building Confederation.
The conferences will delve deep into topics pertaining to the growth outlook on construction and flat glass industries in ASEAN, the applicability of glass in ASEAN architecture, as well as a forum to discuss on achieving sustainability for building facades. The conferences will be attended by prominent glass associations from around the region, leading architects as well as experts from the construction and glass manufacturing industries.
Glasstech Asia 2018 is co-hosted by Malaysia Glass Association (PKM) and Safety Glass Processors Association of Malaysia (SGPAM), and supported by Malaysia Green Building Confederation, Flat Glass Alliance of the Philippines, Inc., Association of the German Trade Fair Industry, Glass and Glazing Federation, Indonesia Flat & Safety Glass Association, National Glass Association, Philippine Chamber of Glass & Aluminium Industry Inc., Taipei Glass Commercial Association, Taiwan Association of Machinery Industry, Thai Plate Glass Industry Association, Vietnam Glass Association, and Australian Glass & Glazing Association.